Your Home Away From Home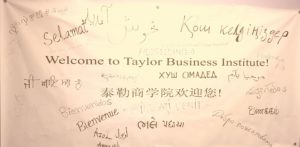 Taylor Business Institute provides a warm, family-centered environment for students coming from abroad. The College wants every international student to feel welcomed and safe. It is never easy attempting to assimilate into the culture, mores, and language of another country. TBI provides its international students with mentors, who can assist them with all the normal questions they may have about their new home. International students may reach out to these mentors who will help them navigate through their initial transition and, help them settle in for a successful educational experience.
Taylor Business Institute recognizes the importance of settling into your new home away from home. In an effort to ease this transition Taylor Business Institute offers following helpful services:
Meet & Greets
Student Housing
Health Insurance
Transportation Assistance
Places of Interest
Please contact International Student Adviser for more information.