OUR PARTNERS
Taylor Business Institute has established partnerships with the following organizations and institutions:
Level Playing Field

Level Playing is a not-for-profit organization that helps Taylor Business Institute students through a variety of scholarships. Individuals interested in acquiring a scholarship to attend Taylor Business Institute should inquire with the Admissions office or the education office at Taylor Business Institute to receive a scholarship application from Level Playing Field or visit Level Playing Field online at www.lpf-chicago.org
National Association for Debt Education and Assistance (NADEA)


NADEA provides financial literacy classes to students who attend Taylor Business Institute. These classes help instruct students in gaining a better understanding of financial management and guidance regarding how to handle debt responsibly.
The Chicago College of Oriental Medicine

Located in the same building as Taylor Business Institute, the Chicago College of Oriental Medicine depends on Taylor Business Institute to provide English Language Training to non-native speakers from abroad seeking to enroll in the Chicago College of Oriental Medicine.Taylor Business Institute also has an articulation relationship with the Chicago College of Oriental Medicine. Students completing Taylor Business Institute's medical billing and coding program may seek admission into the Chicago College of Oriental Medicine's Acupuncture or Oriental Medicine Masters' Program.
Parneyaz Review dba Premier Review

TBI partners with Parneyaz Review dba Premier Review, in providing information to TBI's English as a Second Language students who are preparing for their the United States Medical Licensing Exam about the services Parneyaz provides. TBI also supports this partner with faculty support and space in the delivery of a part of its test preparation services.
National Healthcareer Association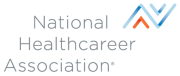 The National Healthcareer Association is a national professional certification agency for healthcare workers in the United States. Taylor Business Institute is a member institution of the National Healthcareer Association and is approved to offer training for certifications, such as Certified Billing and Coding Specialist (CBCS) and Certified Medical Administrative Assistant (CMAA).