Admissions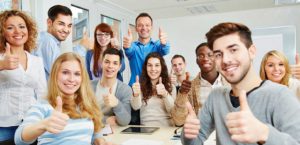 Applicants seeking admission to Taylor Business Institute's Associate degree and certificate programs must set an appointment at the college for a face-to-face interview with the college's admission staff and satisfy the following admission requirements.
Admissions Requirements
Degree Granting Programs
Age Requirement
Each applicant must be at least 17 years of age on the first day of classes. Documentation of age may be required.
Prior Education Requirement
Each applicant must be a high school graduate or hold a General Education Development (GED) certificate.
Transfer Students
Applicants with prior post-secondary attendance must present transcripts indicating all previous course work. Students requesting transfer credit for prior post-secondary education must submit official transcripts before credit is awarded.
Evaluation of Proficiency
To determine admissibility and course placement, TBI considers prior educational performance and proficiency in basic college-level skills. In addition, some programs require prerequisite skills.
Basic Skills Evaluation
Applicant must score at or above the appropriate scaled score on the TBI-Administered Accuplacer examination.
English as a Second language Certificate Program:
Taylor Business Institute's English as a Second Language program is a stand-alone course designed to enhance the English-Language proficiency of individuals who have pre-existing vocational knowledge, training, or skills but cannot use that knowledge, training, or skills because of an English speaking deficiency. No vocational training is provided as a part of Taylor Business Institute's English as a Second Language (ESL) program.
International students coming from abroad or transferring from a college within the United States are not required to submit Test of English as a Foreign Language (TOEFL) results, but must meet the admissions criteria for admission into Taylor Business Institute's English as a Second Language (ESL) program.
Placement Testing (ESL)
All applicants for admission into Taylor Business Institute's ESL program are required to take the Accuplacer test.
Writing Sample
All students enrolling in the English as Second Language program are asked to submit a writing sample by taking the 'ESL WritePlacer' test on Accuplacer.
Oral Interview
If still in doubt after the first two assessments, the candidate must undergo a one-on-oneLanguage Proficiency Interview (LPI) with a member of TBI's ESL faculty. This interviewserves as a comparative tool for accurate initial placement.
Need More Information?
More detailed information regarding admissions requirements for selected programs can be found in the Taylor Business Institute Catalog.  Please feel free to contact us at (312) 658-5100 or visit our location at 318 West Adams Street, 5th Floor, Chicago, IL 60606.